It all starts with a customer. Then it grows. And grows. And as your business grows larger, so does your staff, your offerings, and your sales process. With these changes, your business requires the proper tools to automate and support growth. Many, if not most, businesses turn to a quality CRM, or customer relationship management, software to help execute on their sales and marketing strategies.
A good CRM software can be a central location for data, support your sales and marketing teams, and get more done faster. A great CRM software helps integrate processes between departments, streamline the sales process, and allows your team to be efficient and focused on driving sales and revenue. And a custom CRM? It can manage all of this and more with a workflow that not only fits your business but enhances every aspect.
It's all about the customer.
But before anyone was a customer, they were a prospect, a lead, or a contact. You had a little information about them (perhaps a name, phone number, email address, and a little bit of info that would lead them through the sales process). CRM systems were created for this purpose: to walk the customer through the necessary steps in the decision-making process and eventually lead them into engaging with your company.
Over time, CRM systems grew into an integrated, collaborative tool within all departments in a business: management, customer service, sales, marketing, and even accounting. In addition, it can be used to manage departments outside of your business. For each company you work with, you likely have more than one contact. Managing all important contact information, documents, and records is imperative for keeping a central recording system and passing along critical information between departments for communication.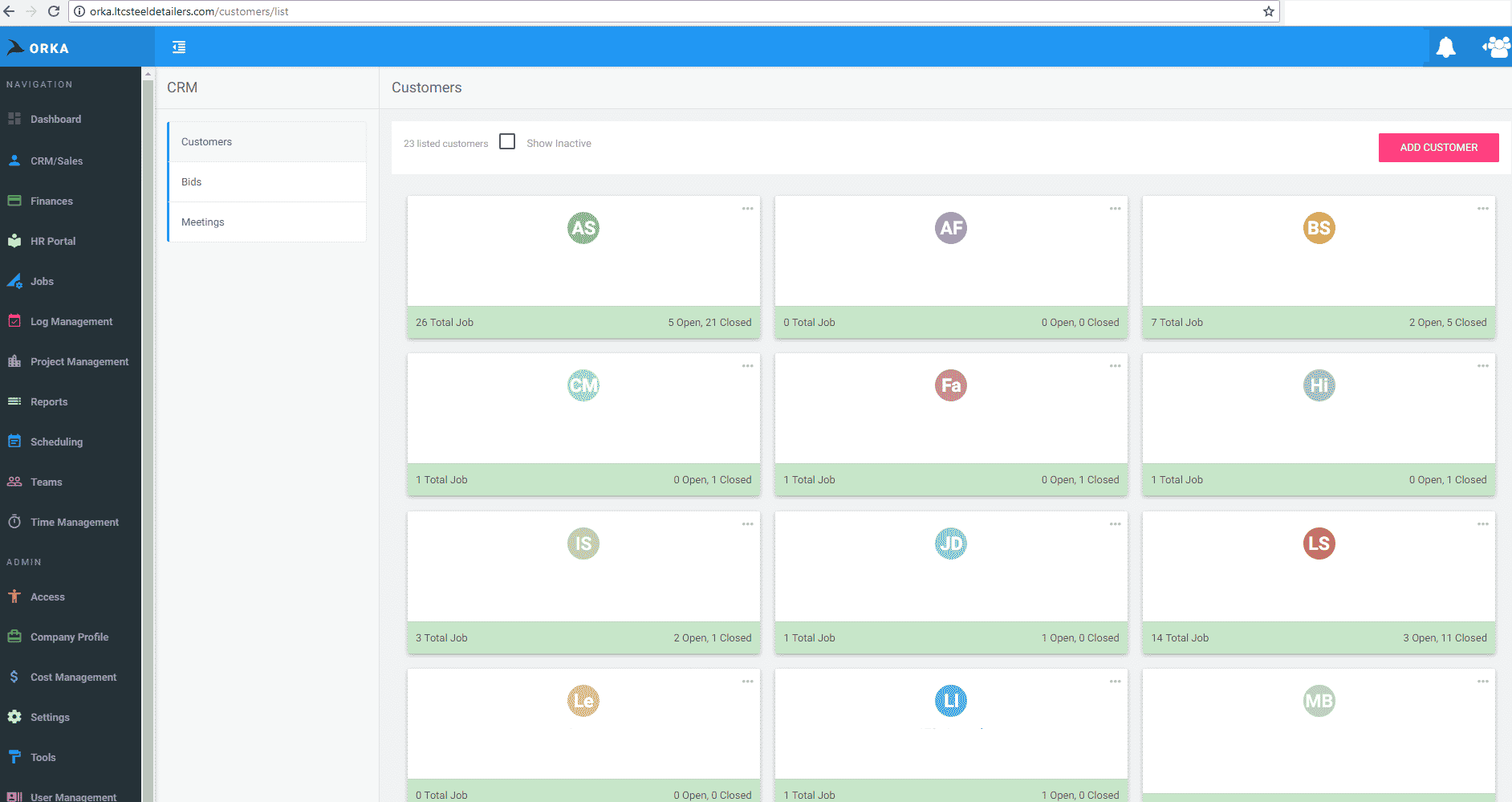 Reasons to build a custom CRM system
There are an abundance of CRM systems available on the market today. Some maintain all information online while others present in a desktop version. Due to marketplace competition, sales and marketing budgets for these systems are strong and forceful. Reviewing multiple CRM systems can feel a lot like walking into a car dealership. Lots of options are presented, you may not sure which is right for your needs, and there is a lot of pressure to make a decision.
The reality is that none of these options may be best for your specific business needs and organization. If you're on a growth track, you likely have existing processes that work well for your team and are supported by other software and internal procedures. Since you already have the framework created, doesn't it make the most sense to utilize something that works within your existing processes and strengthens them rather than adapting your business to how a out-of-the-box software requires your business to run and adapt. Here are a few reasons to build a custom CRM:
Your sales and marketing teams are great separately, but they'd be better if they worked together. As we mentioned earlier, a CRM platform is designed at its core to maintain customer data. But, it should do more. It should work with your marketing process to attract and generate leads or prospects and lead them through a sales funnel. By implementing a CRM tool that includes marketing, you'll be able to gather important demographic information about website visitors and traffic, start the sales process through automation, and then allow your sales team to take over once the prospect is interested and engaged.
Your employees are busy. One of the best reasons to create a custom CRM is automating the process as they relate to customers. The worst thing for a sales team is when an interested customer slips through the cracks because no one was available to communicate with them. Happy customers experience great communication, and employees are able to give great communication if they are available to do so rather than running tasks that could otherwise be automated.
Your processes don't align. A custom CRM allows individual departments to each have their own module, but the modules work together. Data entry only needs to be done once, and it is disseminated across all departments. Customer information, invoicing, and other multi-departmental processes are all streamlined and quicker when the information is there and ready to act upon.
Implementing a custom CRM gives you to the tools your business needs to manage, measure, and improve processes throughout your organization. Yet, it still allows you to maintain processes that are working well. It is often quicker, more affordable, and better received than utilizing a standard system. Interested in learning more? We'd be happy to provide a free, no-pressure consultation!